Info aje untuk simpanan ciku
Cherry blooming forecast (date of first bloom) onthe pass 2013 Season
JAPAN RAIL PASS... The Key To Convenient Sightseeing In Japan .
Hakuba , Located in the north-west region of Nagano prefecture , Hakuba became better known internationally after hosting some of the events of the 1998 Winter Olympics .
Banyak nak kena studi ni route ni..ramai je blogger yang dah pegi.Boleh ciku refer.hihi.:) Bagus gak blogger blogger yang suka note detail tour mereka secara backpack tu.tq tq.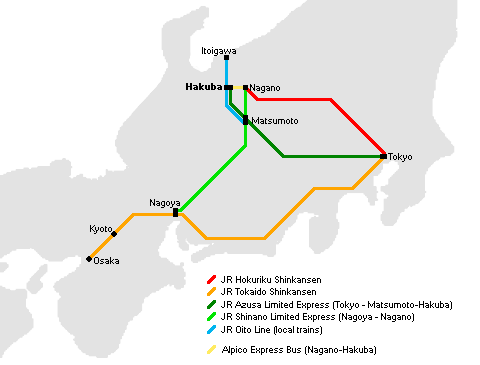 From Tokyo

By shinkansen via Nagano
Take the JR Nagano Shinkansen from Tokyo to Nagano (100 minutes, 8000 yen) and then an express bus from Nagano to Hakuba (60-90 minutes, 1500-1800 yen), where the bus stops at Hakuba Station and directly at the base of several ski resorts. The Japan Rail Pass covers the shinkansen trip but not the bus journey.

By limited express train via Matsumoto
Take the JR Azusa limited express train from Tokyo's Shinjuku Station to Matsumoto and transfer to a local train on the JR Oito Line to Hakuba. Some Azusa limited express trains run all the way to Hakuba. The one way journey takes about 4 to 4.5 hours and costs around 8000 yen. It is fully covered by the Japan Rail Pass.

By direct highway bus from central Tokyo
During winter, six bus round trips per day are operated between Tokyo (Shinjuku) and Hakuba, where the buses stop in the village center and at the base of the Goryu and Happoone resorts. The one way journey takes about 4.5 hours and costs 4700 yen. A round trip ticket is available for 8500 yen.

By direct highway bus from Narita Airport
During winter, one round trip per day is operated between Narita Airport and Hakuba (Goryu, town center and Happo-one). The one way trip takes about six hours and costs 8,500 yen.
Hopefully kali ni menjadi dengan izin Allah(SWT) trip to japan."cherry blossom" tunggu ciku ye.hihi .:)